E. Musk's company will close one of the worst weeks on the stock market, excellent, yes, for shorts. The situation in China, his erratic management of TWTR and political issues have undermined investors' confidence in his ability as CEO and more than one in Wall St , points out that the exit from the management of his companies would be the solution. From a technical point of view, however, there is danger of a rebound for the bearish.
The weekly benchmark leaves TSLA near possible support at $136 or $127 . 50 in the best case scenario for shorts at the end of the week. The weekly third raven (third bearish candlestick) will have to test support tomorrow, Friday.
If the aforementioned candlestick pattern is triggered on Monday, with the fourth bearish candlestick, the target would be between $110 / $111 a share.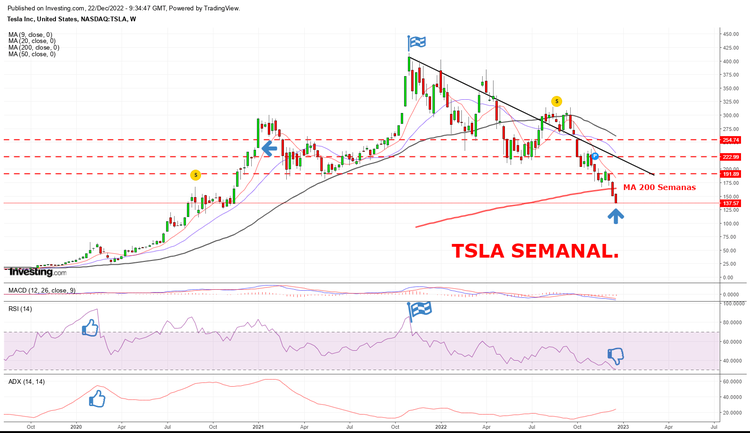 Possibility of a rebound. Historical reading of the Weekly RSI.
RSI in extreme oversold like the current one in Weekly we do not see it since April 27, 2019 - TSLA was not yet listed in S&P 500 - back then the reaction was bullish with trend acceleration towards consecutive all-time highs.
It should be noted that the beginning of the current bearish trend is 1 year old (November 2021) and originated from extreme overbought with Weekly RSI > 80.
Therefore, there are many possibilities of a rebound that can disrupt the current three-week shorts, activated after the loss of the $192 support, and erode part of the profits. Although, if there is a trend, everything changes, again, in favor of the bearish.
ADX reading.
Related to the above, we note - remember that we are on the weekly horizon - as the ADX presents a reading of 24 pts. That is, it is on the edge of the trend ( >25 / 30 pts ADX line reads trend). If the weekly close tomorrow occurs without significant bounces, the ADX will reinforce its trend reading and here, even if the RSI remains in extreme oversold, the trend rules as the Dow theory says.
We can see how in 2019, with an extremely overbought RSI, the ADX, i.e. the trend, took command of the market and drove the stock to consecutive all-time highs.